Find your destiny
Hunting in Poland
Welcome to hunting in Poland – the most beautiful and rich hunting grounds in Europe. From years of experience and visiting several countries we can honestly recommend this country not only for its big numbers of animals but also the quality of trophies. Year by year the hard work ethic of Polish Hunting Clubs and the Polish Hunting Association brings good results with increasing medal trophies on several hunting grounds in Poland.
Red stag roaring in the forest, big roe buck in the grass field, mouflon behind the tree, wild boar in the field, fallow deer grazing, ducks flying above the water, imagine this scene with the morning fog in Poland!
ROE BUCK
In Poland we can hunt individually or in a group. Hunting season starts on 1st April, however the best hunting starts from 11th May for individual roe buck. With a short break in late July (when grains are very high and limit visibilty) we continue with a selection of animals until the end of September. The best time for roebuck hunting is the end of July and the start of August on rut culmination.
RED STAG
Later in the first 3 weeks of September it is time for the red stag. Sounds of roaring stags, fightings and great landscapes is the pure pleasure of hunting. Our skilled guides with a passion for sharing information on how to behave and silently stalk your dream deer. The standard size of stags antlers are between 5-8kg. Big stags are between 9-11kg but some areas you can even see 13-14kg stag antlers
FALLOW STAG
November is the time for hunting fallow deer, which is equally as exciting as hunting red stags. Fallow deer rut differently than red deer. Stags make holes where they lure their doe with scent. The fight of fallow deer is not fun, often fatal accidents happen. On our forest you can see stag antlers from 2 to even 4kg.
MOUFLON
Mouflon is a less popular species in Poland, mainly due to the requirements for living. Mouflons prefer mountainous and rocky hunting areas that we have in the southern part of Poland. The biggest mouflon can have up to 100cm horns. During individual huntings we hunt twice a day – morning and evening. Depending on the time of year, we wake up before sunrise and hunt till 8:00-9:00. We drive back to hotel for breakfast and relax. Evening outings start between 17:00-19:00 and we stay on hunting until dark. In Poland it is possible to hunt wild boars all year round, on so many occasions on individual hunting we have had the opportunity to see and shoot nice boar / keiler.
DRIVEN HUNT
In the beginning of October it is time for the driven hunt for wild boar and red deer. Each hunter likes this great type of hunting with many boars and deers on a snow-covered forest. It's also lottery of Saint Hubert – patron of Polish hunters who gives opportunity for all to meet face to face with running boar and gives hunter only few seconds to make a precise shot. Hunting starts at 8:00. During the day we are arranging between 8 to 12 standard drives or 4 to 6 when we hunt from highseats. At midday we organize a short break for lunch in the forest. Driven hunt season ends in the end of January, but it is still possible to hunt individually for red stag until the end of February.
BIRDS HUNTING
From 15th August until the end of February we can also hunt for birds. Our main species are ducks / mallards, grey geese and pheasants. Many hunters (mostly from Italy) love to come back to Poland and hunt with us for this demanding hunting. You must demonstrate above average shooting skills to reach success. Eveyone knows that running wild boar in the forest and emotions connected with driven hunt is not comparable to bird hunting however we strongly recommended this type of hunting as a side step from our daily hunting.
ORGANISATION AND ACCOMMODATION
Our main goal is to organise a professional and effective hunt but as well as hunting we also take care of your comfortable stay. We compare and select only good accommodation that fits your expectations – starting from hunting house to standard hotel and luxury lodges. Please visit out accommodation service for more information.
Our satisfied customers have come from Denmark, Sweden, Finland, Norway, Germany, Belgium, France, Austria, Italy, USA and Canada and other countries coming back to Poland each year to hunt with us. This gives us confidence that our hunt and our organisation is one of the best in Poland. See you soon in the forest!
With traditional Polish greetings
DARZ BÓR!
What a hunt! I never seen so many animals in my life. Guides are very welcome and friendly even if they dont speak very well in english they know what to do. Michal makes perfect job. I will come back!
Great folks and great hunting. It has been a tough year for red deer but they worked hard to make sure we had some shooting. Looking forward to hunting with them again.
Another extremely satisfied repeat customer. Everything. The people, the accomodations, the hunting - everything was top notch.
Excellent hunting experience. Good value for money.
I get 2 wonderful stag. Organisation, accommodation and friendly atmosphere is that what I was looking for searching offer for stag hunting in Poland
Très bonne chasse aux brocards. Tout était très bien, bon accueil, très beau territoire, belle qualité de trophée. Agence très sérieuse et très à l écoute.
Everthing was working perfect doring our stay. Hunting, Hotel, food etc. The club was well prepared for our coming. Good information before the hunt start.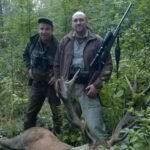 Exceptional communication from outfitter. High density of game. Hunted Red Stag, Roe and Fallow Deer, Mouflon and Wild Boar on two separate trips. Michal went out of his way to make my hunts a success from booking to trophy shipping. Will definitely hunt with again!!
Newsletter
Get on the list
Sign into our newsletter and received all offers, media and promo but firstly check out Facebook offers and news about hunting in Poland.