October - January
Driven hunt for wild boar and red deer
Driven hunt in Poland is one of my favourite types of hunting. I love watching wild boars running in the forest, shouting beaters and barking dogs. This is an all day excitement. We provide special areas for driven hunt with dense bushes and heavy wetlands. This is an ideal place for wild boars. Red deer usually like to be separated from wild boars in the forest as they prefer peace and quiet that's why we are mixing both areas for a successful hunt.

DRIVEN HUNT TIME
In October we start the driven hunt, however it's not the best time in whole season. There are still many leaves on the trees effecting visibility, also there are Polish people mushroom picking in the forest. However some hunters like to hunt during this time because animals are moving to zones without humans (reeds and rushes) and then they concentrate their efforts in these areas.
November and December is the start of real driven hunt time. People stop to attend to the forests as well as forestry work is less intense. Corn fields will be harvested and the animals move to the woods because beeches and oaks are dropping acorns. During this period, we hunt in almost all areas of the forest, especially young forests, marshes and wetlands. It's also time for you to show your shooting skills.
January is also a very good time to hunt in a group. Snow covers the fields and trees creating wonderful scenery. For the leader of the hunt, he he can easly track animals due to the snow. We finish driven hunt on all animals on 15th January, however we can still hunt for wild boar and red stag until the end of January.
ORGANISATION
We put high pressure on a professional service, good beaters and dogkeepers. Eveything depends on them to have a successful result on the parade. We organize hunting for groups of 14-16 hunters it's a good number to set up a tight area without any gaps. Groups less than 10-12 hunters usually are less popular however for them we also have some solutions and offers. In most cases we hunt in a traditional way from the ground, however some hunting clubs according to specification of their hunting area prefer to shoot from small towers (1,5-2m). Safety Regulations, behaviour and good practices apply in Poland and are send by mail and are repeated again before hunting starts as a presentation in a language understandable by the hunter.
Example plan of the day (exactly hours can be different depending on various conditions):
Breakfast is around 6:00,
We start hunting at 7:00 – 8:00 (4-5 drives),
Lunch in the forest (around 12:00-13:00),
Continue hunting (another 3-4 drives),
Finish hunting with traditional polish hunting ceremony,
Return to hotel
If you have any questions, do not hesisate to contact us or check FAQ. It's also worth to see our photo gallery on facebook.
All packages including:
accommodation (double room) and full board,
preparation of the hunting area before hunting (feeding and no hunting) 
organisation of the hunting with beaters and dog keepers.
preparation and evaluation of trophies,
pilot / interpreter,
permission for hunting and documents.
animals fees according each package: all wild boar, red deer hind/calf, roe deer, small predators: fox, racoon etc. some areas is also possible to hunt fallow deer
Excluding:
transport from hotel
room upgrade to a single room
additional trophy fees
any additional request.
Wild boar driven hunt

1900

EUR

3 days driven hunt / 4 night

6 red stag up to 5kg

no-limit other game
Red / Fallow deer driven hunt

2600

EUR

4 days driven hunt / 5 night

8 red stag up to 5kg or fallow stag up to 1,5kg

no-limit other game
DRIVEN HUNT BY PRICE LIST
In our offer you can find also driven hunt in Poland in pricelist formula. Each hunter pay for organisation and accommodation. Animals shoot are estimeted by pricelist and share between hunters individual or jointly – depending on group prefference. For this type of hunting is preffered by State Forest areas – sometimes is good solution if you expected to shoot more animals or you coming with smaller group when package hunting price is bit too expensive per person. Please use form to forward us all details about your trip.
ACCOMMODATION
A range of accomodation, from standard hotels,  through hunting lodges to 5 star hotels gives you an opportunity to choose one that fits your requirements. We know that hunting is the most important part of your stay however it is your holiday and spending time in a quality place is also important.
What a hunt! I never seen so many animals in my life. Guides are very welcome and friendly even if they dont speak very well in english they know what to do. Michal makes perfect job. I will come back!
Great folks and great hunting. It has been a tough year for red deer but they worked hard to make sure we had some shooting. Looking forward to hunting with them again.
Another extremely satisfied repeat customer. Everything. The people, the accomodations, the hunting - everything was top notch.
Excellent hunting experience. Good value for money.
I get 2 wonderful stag. Organisation, accommodation and friendly atmosphere is that what I was looking for searching offer for stag hunting in Poland
Très bonne chasse aux brocards. Tout était très bien, bon accueil, très beau territoire, belle qualité de trophée. Agence très sérieuse et très à l écoute.
Everthing was working perfect doring our stay. Hunting, Hotel, food etc. The club was well prepared for our coming. Good information before the hunt start.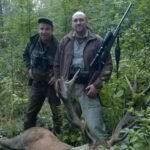 Exceptional communication from outfitter. High density of game. Hunted Red Stag, Roe and Fallow Deer, Mouflon and Wild Boar on two separate trips. Michal went out of his way to make my hunts a success from booking to trophy shipping. Will definitely hunt with again!!