We will provide you luxury of hunting
VIP hunting in Poland
Dear Sir, We had the pleasure to host well-known people from the USA, Europe and Middle-East countries. With over 10 years of experience, we can provide our VIP clients the highest standards of service and a guarantee of a successful hunt.
Our offer is made to measure thanks to which we adapt it to the individual needs of each of our guests. Starting from transport and accommodation and ending with details related to hunting and properly tailored cuisine.
We offer a number of packages that can be combined (depending on the protection periods):
Apart from the fact that in Poland you can hunt a gold medal stag or buck, hunting with hunting birds gives our clients highest pleasure.
Depending on the species of birds (Parabuteo unicinctus, Falco biarmicus, Accipiter gentilis, Falco peregrinus, Falco cherrug), we have areas adapted to their needs, as well as we provide countless small animals for which these beautiful birds can hunt.
We see each other on ADIHEX EXPO 2021 in Abu Dhabi 
HUNTING AREAS
In Poland we cooperate with Hunting Clubs and State Forest areas. To gives you guarantee of  successful hunt we selected only few who meet the highest service standards and forests are rich in animals. Don't forget that you hunt in 100% natural environment.
All animals are wild and live in areas of 5,000 to 25,000ha. This is not a ZOO or safari in Africa where you meet hundreds of antelopes every day. It's a demanding hunt that doesn't always end in full success – but I guess that's what hunting is all about. Don't worry if you don't shoot all what you planned with next trip you come for FREE and finish purchased packages.
TRANSPORT
Our top drivers take care of your journey from airport to accommodation place. For your comfortable trip we use high quality cars. Location of the hunting area depending on arrival time but usually there is not more than 1-2h driving from airport. If you wish to come with a companion our cars are still for your disposition during day.
Guides are high skilled Profesional Hunters with more than 15 years on expirence. They know the area as "own pocket" – this gives you oportunity to have the highest success rate 94%. Wild Poland is waiting for you.
All options including:
accommodation (private apartment) and full board,
preparing hunting area before hunting
hunting organization (2 outings per day)
preparation and evaluation of trophies,
pilot / interpreter (english)
permission for hunting and documents.
fee for trophies included in package
transfer from/to Airport Warsaw
transport on hunting area
Excluding:
fee for additional trophies
any additional request.
ACCOMMODATION
We will offer you high class accommodation in luxury palaces and hunting lodges. Our staff is ready to help you and take care of all details. For your request we can provide individual menu or share kitchen for your personal cheff.
from 10 000 EUR
HUNTING WITH EAGLE / FALCON
7 days accommodation,
6 days hunting,
no-limit small game.
book / modify
from 20 000 EUR
HUNTING ROE BUCK
10 days accommodation,
9 days hunting,
30 roebucks (minimum 5 gold medal),
no-limit other game.
book / modify
from 30 000 EUR
HUNTING RED STAG
10 days accommodation,
9 days hunting,
5 red stag (minimum 2 gold medal),
no-limit other game.
book / modify
What a hunt! I never seen so many animals in my life. Guides are very welcome and friendly even if they dont speak very well in english they know what to do. Michal makes perfect job. I will come back!
Great folks and great hunting. It has been a tough year for red deer but they worked hard to make sure we had some shooting. Looking forward to hunting with them again.
Another extremely satisfied repeat customer. Everything. The people, the accomodations, the hunting - everything was top notch.
Excellent hunting experience. Good value for money.
I get 2 wonderful stag. Organisation, accommodation and friendly atmosphere is that what I was looking for searching offer for stag hunting in Poland
Très bonne chasse aux brocards. Tout était très bien, bon accueil, très beau territoire, belle qualité de trophée. Agence très sérieuse et très à l écoute.
Everthing was working perfect doring our stay. Hunting, Hotel, food etc. The club was well prepared for our coming. Good information before the hunt start.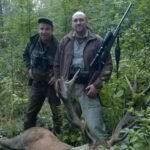 Exceptional communication from outfitter. High density of game. Hunted Red Stag, Roe and Fallow Deer, Mouflon and Wild Boar on two separate trips. Michal went out of his way to make my hunts a success from booking to trophy shipping. Will definitely hunt with again!!