Thermal hunt by night
Individual wild boar hunt in Poland
Boring hunting for reobucks and red stags? We have a new offer aviable for hunting in Poland. As you know the hunting step into new era of digital equipmnet. Therefor our goverment give possiblity to hunt for wild boars by night with thermal and night vision euqiment. You can legaly shoot on wild boar with digital scope and also have another stuff for observation. Good quality products are not realy cheap. There for our offer contains also renting of highest quality products from Pulsar and Yukon.
We hunt only by night so we start hunting later than normal buck or stag hunting but we stay longer on forest – ususaly 2-3 am we are back with some boars 🙂
Check our proposal and look on video what you can expected from this hunting trip.
See you in forest!
Packages including:
accommodation (double room) and full board,
preparing hunting area before hunting
hunting organization (2 outings per day)
fee for transport on hunting area
preparation and evaluation of trophies,
pilot / interpreter,
permission for hunting and documents.
high quality Pulsar / Yukon equipment
Excluding:
fee for additional trophies
room upgrade to single room (+20 EUR/night),
any additional request.
Weekend hunt

900

EUR

2 outings (firday/saturday)

2 night at hotel (firday-sunday)

2 wild boars

refund when boar not shoot
Big boar hunt

1300

EUR

3 outings

3 night at hotel

2 wild boars (inc. keiler)

refund when boar not shoot
ACCOMMODATION
From standard accommodation via hunting lodge and finishing at high standard palaces and hotels give you opportunity to choose one that fits your requirements. We know that hunting is the most important part of your stay however it's your holiday and spending time in quality place is also our goal.
What a hunt! I never seen so many animals in my life. Guides are very welcome and friendly even if they dont speak very well in english they know what to do. Michal makes perfect job. I will come back!
Great folks and great hunting. It has been a tough year for red deer but they worked hard to make sure we had some shooting. Looking forward to hunting with them again.
Another extremely satisfied repeat customer. Everything. The people, the accomodations, the hunting - everything was top notch.
Excellent hunting experience. Good value for money.
I get 2 wonderful stag. Organisation, accommodation and friendly atmosphere is that what I was looking for searching offer for stag hunting in Poland
Très bonne chasse aux brocards. Tout était très bien, bon accueil, très beau territoire, belle qualité de trophée. Agence très sérieuse et très à l écoute.
Everthing was working perfect doring our stay. Hunting, Hotel, food etc. The club was well prepared for our coming. Good information before the hunt start.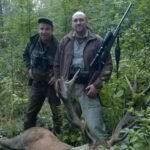 Exceptional communication from outfitter. High density of game. Hunted Red Stag, Roe and Fallow Deer, Mouflon and Wild Boar on two separate trips. Michal went out of his way to make my hunts a success from booking to trophy shipping. Will definitely hunt with again!!