What hunters says about us
Testimonials
After years of experience we have groups that coming back to us each year. Some of them like to change place some of them not. No matter if you come back to us again feel free to send us your opinion about our service and cooperation. This definetly will help us to improve our work to be number one. We will be greatful also for your opinion at facebook and bookyourhunt. Thank you.
What a hunt! I never seen so many animals in my life. Guides are very welcome and friendly even if they dont speak very well in english they know what to do. Michal makes perfect job. I will come back!
Great folks and great hunting. It has been a tough year for red deer but they worked hard to make sure we had some shooting. Looking forward to hunting with them again.
Another extremely satisfied repeat customer. Everything. The people, the accomodations, the hunting - everything was top notch.
Excellent hunting experience. Good value for money.
I get 2 wonderful stag. Organisation, accommodation and friendly atmosphere is that what I was looking for searching offer for stag hunting in Poland
Très bonne chasse aux brocards. Tout était très bien, bon accueil, très beau territoire, belle qualité de trophée. Agence très sérieuse et très à l écoute.
Everthing was working perfect doring our stay. Hunting, Hotel, food etc. The club was well prepared for our coming. Good information before the hunt start.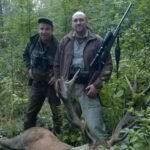 Exceptional communication from outfitter. High density of game. Hunted Red Stag, Roe and Fallow Deer, Mouflon and Wild Boar on two separate trips. Michal went out of his way to make my hunts a success from booking to trophy shipping. Will definitely hunt with again!!