November - Febraury
Mouflon hunting in Poland
Prohunt presents you wtih mouflon hunting! Population of this unique animal in Poland in very limited, 10,000 specimens. They live mainly in southern part of Poland near mountains in their natural habitat. Due to the diversity of the environment in our country, mouflons can also be found in the central and western part of Poland. Old excavations and opencast mines make a great place to introduce this species and many hunting clubs have decided to try breeding this species in those areas with success. What is interesting, in the central part of the country the feeding base is much batter than in the mountains, which gives you the opportunity to shoot a really beautiful medal trophy.
ENVIRONMENT
Mouflons usually live in groups, very often/ visit the same places at the same time. You might think now that mouflon hunting is easy? Sorry, but you are wrong. Mouflons' sight is much better than other species living in Poland. In addition, in the group they feed in change which makes the approach much harder. Standard mouflon horns are about 60-75cm, but each year we also shoot trophies exceeding 80cm. Record of Poland at the moment is 105cm.
Rams are very attentive, when they realise that they are in danger, they might not return to the same place for the next two weeks. Therefore, any mistake or missed shoot on the animal may result in unsuccessful hunting.
Our experienced guides will conduct individual training with you so that you can achieve the maximum result. In southern Poland, mountainous terrain require from you a good performance and condition. Shooting takes place mainly at a distance of 50-150m
Mouflon is a very special species, therefore many hunters also perform the preparation of this trophy as a shoulder mount or full mount. Check our taxidermist work – maybe you also will be interested to put harvested mouflon in your trophy room.
All options including:
accommodation (double room) and full board,
preparation of the hunting area before hunting
organisation of the hunting (2 outings per day)
preparation and evaluation of the trophies,
pilot / interpreter,
permission for hunting and documents.
Excluding:
fee for the trophies
fee for transport around the hunting area,
room upgrade to a single room,
any additional request
Muflon ram 60-70cm

1700

EUR

3 days hunting / 3 night

1 mouflon 60-70cm

1 wild boar

refund when mouflon not shoot
Muflon ram 80cm+

2900

EUR

3 days hunting / 3 night

1 mouflon 80cm+

1 mouflon sheep / 1 wild boar

refund when mouflon not shoot
We are dealing directly  with every Hunting Club and State Forest (goverement zone) directly and each of them has different prices. The price will depend on number of hunters and number of animals included in the package. If you would like to know our pricelist please fill out the form and we will provide you with a complete offer. Thank you!
ACCOMMODATION
A range of accomodation, from standard hotels,  through hunting lodges to 5 star hotels gives you an opportunity to choose one that fits your requirements. We know that hunting is the most important part of your stay however it is your holiday and spending time in a quality place is also important. You can check any example hotel link.
What a hunt! I never seen so many animals in my life. Guides are very welcome and friendly even if they dont speak very well in english they know what to do. Michal makes perfect job. I will come back!
Great folks and great hunting. It has been a tough year for red deer but they worked hard to make sure we had some shooting. Looking forward to hunting with them again.
Another extremely satisfied repeat customer. Everything. The people, the accomodations, the hunting - everything was top notch.
Excellent hunting experience. Good value for money.
I get 2 wonderful stag. Organisation, accommodation and friendly atmosphere is that what I was looking for searching offer for stag hunting in Poland
Très bonne chasse aux brocards. Tout était très bien, bon accueil, très beau territoire, belle qualité de trophée. Agence très sérieuse et très à l écoute.
Everthing was working perfect doring our stay. Hunting, Hotel, food etc. The club was well prepared for our coming. Good information before the hunt start.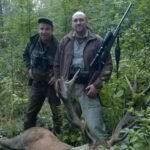 Exceptional communication from outfitter. High density of game. Hunted Red Stag, Roe and Fallow Deer, Mouflon and Wild Boar on two separate trips. Michal went out of his way to make my hunts a success from booking to trophy shipping. Will definitely hunt with again!!